Do you want to clear your error_log, tmp, trash files or unwanted files?
If yes, stick with this article as today in this articlce, you gonna learn how you can easily clear trash or unwanted files from cPanel.
So, without any delay, let's start with the today's topic…
Steps to clear trash or unwanted files :
You need to follow all the steps consciously in order to clear your trash or unwanted files, any mistake can harm your website so be focused.
Let's start with step 1…
STEP 1 – Login To cPanel Account
Select your Active Product/Services.
Click on "Login to cPanel" under Action Tab.

Or, click on the login to cPanel button just below the nameservers.
Then you will automatically be redirected to your cPanel Account.
Or, if you have cPanel login details then you can easily log in to your cPanel account by visiting yourdomain.com/cpanel.
STEP 2 : Go To CpCleaner
Search "Cp" in the search bar.
Go to "CpCleaner" under Files section as shown below.
STEP 3 : Clear Trash or Unwanted Files
Firstly, you need to scan the files.
Simply, click on "Start New Scan"
Now, select the unwanted files you wants to clear.
Then, click on "Clean Files" button.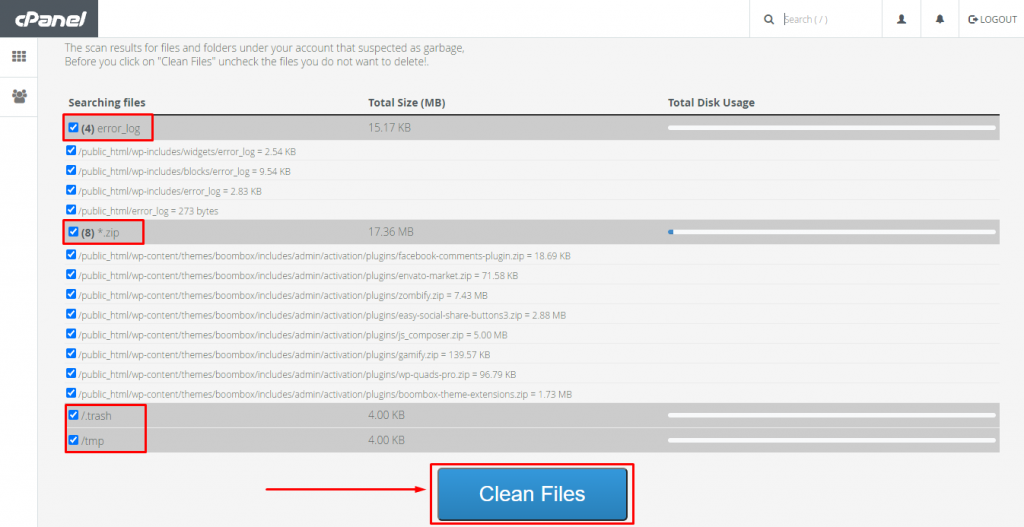 You will now get an alert message.
Simply click on "OK" button.

That's it.
You will see a success message showing that the trash and unwanted files are now cleared as shown below.
Thanks for reading this article. Hope, you found this article helpful and your query regarding how to clear trash or unwanted files from cPanel is now solved