Do you want to reset your client area password but don't know how? Well, you can do that easily after reading this complete article.
If you are ready then let's start this guide…
Steps to reset your Password of Client area
You just need to follow these simple steps one by one as mentioned in this article in order to reset your password
Alright, let's start.
STEP 1 – Login to the Client Area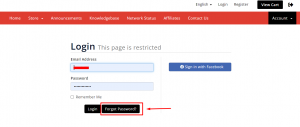 STEP 2 – Now Lost Password Reset page Open:
Mentioned your Mail here
Click On Submit
Now you can see the password Reset Requested
STEP 3 – Open your Mail :
You Received Mail for reset password from shoulder
Click on that mail.
Then Click On the Password Reset Link
STEP 4 – Now you access Lost Password Reset page :
Mentioned here New Password
Then Confirm That Password again
And Click On Save Changes
Now your Password successfully changed.
Thanks for reading this article. Hope your question regarding how to reset your Password is now completely answered.
If you still have any queries then please let us know through the comments.